Sophia's Pantry Use Wisely Hot Sauce
Use Wisely Hot Sauce is made by a fermentation process (rather than pickling with vinegar) that preserves the fruitiness of the peppers. The hot sauce has tangy and floral notes. It is hot, but it is not just hot.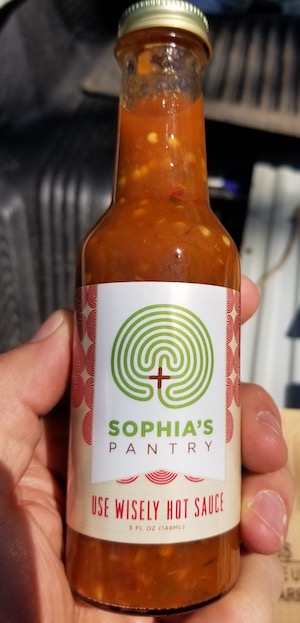 Pricing for Greater RVA and Greater Petersburg
1-5 bottles: $10/bottle +$5 flat fee for contactless delivery
6+ bottles: $10/bottle + free contactless delivery
Note: Local customers can also order for pickup at one of the Sophia's Pantry CSA drop locations. This option is available on Wednesdays between 4:30 – 6:00pm in Richmond at either Grace Baptist Church or Chamberlayne Heights United Methodist Church or in Dinwiddie at Laurel Branch Farm.
Pricing for Shipped Hot Sauce
2 bottle bundle: $30 for 2 bottles, shipping included
3-12 bottles: $11.25 for each additional bottle, shipping included
To arrange an order of more than 12 bottles, please email csa@sophiafarms.org.
Ingredients: serrano peppers, cayenne peppers, salt
Size: 5 oz.
Sophia's Pantry Marinara Sauce
Sophia's Pantry Marinara Sauce has sold out, and we do not have any more in production. We would like to thank everyone who shared in the first fruits of Sophia Farms and have supported us as we continue preparing to welcome our first class of students. 
Get Your Taste of the Farm Now
Direct from the crops grown in the fields of Sophia Farms, we are excited to offer these Sophia's Pantry sauces. 
Whether for your own table or to share as gifts with family and friends, you can enjoy the work and care of the Sophia community as we've tilled the earth, planted the seedlings, raised the vegetables, picked the bounty, and prepared these recipes for you. Order now to enjoy these delicious products and to support Sophia Farms and Sophia Theological Seminary.