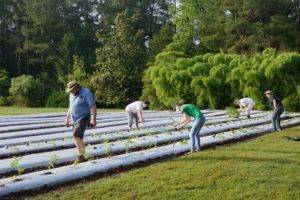 Sophia Farms is a nonprofit, small-scale intensive agriculture endeavor established to provide financial support to Sophia Theological Seminary. Proceeds from Sophia Farms fund the operating costs of Sophia Seminary. All members of the Seminary community contribute their labor to the Farms. Students thus "fund" their tuition and housing through weekly work on Farms-related activities. Sophia Farms' income is primarily through sales of its produce via the Farms' CSA, Sophia's Pantry.
Our Core Values
As an embodied community of learners committed to God as revealed in Jesus Christ, participants in the mission of Sophia Farms assent to a set of core values, including:
Individuals and communities need to live in increased connection to and harmony with God's creation, and work together on the Farms will be marked by the rhythms of nature, the land, and creation.
Farming offers a "laboratory" of learning fidelity to God's creation and to one another in community; it is both a practical and a theological endeavor.
Ongoing engagement with questions of sustainability, food justice, ecology, and stewardship of God's good creation are critical to the development of farming practices.
The Farms will tithe of its produce.
Being a community of inclusive welcome is foundational to the life, work, and self-understanding of the Farms.
Relationships forged between Sophia Farms and Sophia Seminary, the church, and the community will undergird and strengthen the life and work of all, as the Farms is both witness to and resource for the church and the community.
The community will exercise wise stewardship of capital resources, natural resources, and people.
The community claims its heritage as little "b" baptist, understanding this heritage as historical, transcending specific denominational confines, and equally commits itself to ecumenical and interfaith work, locally and globally.
Steering Committee
Mark E. Biddle, Montpelier, VA
Melissa A. Jackson, Church Road, VA
Kathy Shereda, Dinwiddie, VA
Nelson C. Taylor, Glen Allen, VA
Neil Zahradka, North Chesterfield, VA
Sophia Farms Board of Trustees
Mark E. Biddle, Dean of the Faculty, Sophia Theological Seminary, Montpelier, VA
Mary Beth Foust, High Point, NC
Jessica Hearne, Danville, VA
Mark Hughes, Sutherland, VA
Paul Irwin, Mechanicsville, VA
Melissa A. Jackson, ex officio, Church Road, VA
Maria Lynn, Amelia Courthouse, VA
Polly Jones Mason, Richmond, VA
Dawn McNamara, Secretary, Richmond, VA
Kevin Ritter, Chesapeake, VA
Kathy Shereda, Farm Steward, Dinwiddie, VA
Nelson C. Taylor, Acting Administrator, Glen Allen, VA
Neil Zahradka, Chair, North Chesterfield, VA